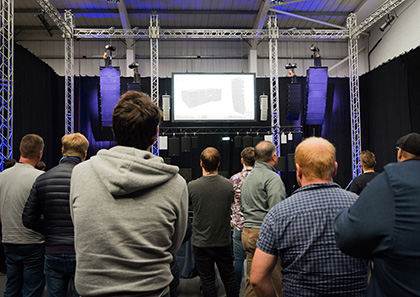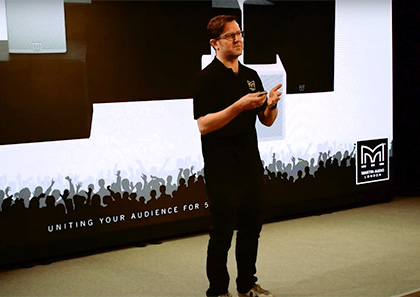 Open Days with Product Demonstrations
Location:
Martin Audio HQ. Century Point, Halifax Road, Cressex Business Park, High Wycombe, Buckinghamshire, HP12 3SL. UK.
Days and Times:
Tuesday 8th March. 9.30-11.30 and 14.00-16.00
Wednesday 9th March. 9.30-11.30 and 14.00-16.00
Our celebrated Open Days are returning once again, providing an ideal opportunity to meet the team and to listen to a selection of our product portfolio.
Demonstrations will include stage monitors LE and XE, point source loudspeakers from our BlacklineX series, the constant curvature array TORUS and a selection of optimised line arrays from the Wavefront Precision series.
In addition, visitors can also get a little more acquainted with Focusrite Pro and Optimal Audio, sister brands within the wider Focusrite Group.
To safeguard both our staff and visitors during the ongoing Covid pandemic there are some protocols and measures to be aware of at the bottom of this page, but we would recommend you arrive 30 minutes before your planned session to help with this and to start sessions on time.
Following each of the demo sessions is a dedicated Optimal Audio demonstration and if you would also like to attend this, please visit HERE
REGISTER HERE
A safe and enjoyable show
Please read the following guidance notes before registering and organising your trip:
1. Green listed countries only
The Open Days are open to anyone, but those travelling from abroad need to be part of the UK Government 'green' list of countries at the time of your travel. The current list can be found HERE, but please note the list changes and so we cannot be responsible if a country moves out from the green list. Please ensure you book refundable travel arrangements to safeguard against this.
2. Covid free test
Entry to our HQ will be conditional on proof of negative covid test taken a maximum of 24 hrs in advance. We can also provide onsite tests on the day of entry.
3. Masks and sanitiser
Although masks will not be mandatory, those wishing to wear a mask, please do so and we will also have spare masks available alongside sanitiser.
4. Demo sessions are limited to 40 people
To help ensure a little more space and safety each of the presentation/demonstration sessions are capped at a maximum of 40 visitors plus staff. Each session is therefore on a first come first serve basis, with a supplementary waiting room registration that we will utilise in case anyone is unable to attend. Please arrive 30 minutes prior to your planned session to help with protocols and to start sessions on time.
5. Restricted access / no factory tours
This time, we will have to restrict access to the building so we will not be able to provide factory tours.