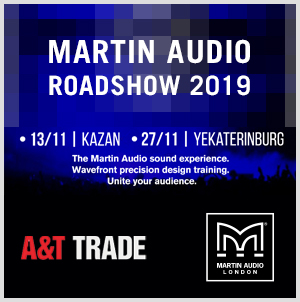 November 2019

Martin Audio, together their distribution partner, A&T Trade, invites you to experience the legendary sound of Martin Audio systems and attend a workshop on deploying Wavefront Precision series line arrays.
1st Roadshow: November 13, 2019 – Kazan.
2nd Roadshow: November 27, 2019 – Yekaterinburg.
As part of the road show we will be pleased to present the following products:

* ADORN
* BlacklineX
* BlacklineX Powered
* CDD Series
* CDD-LIVE!
* SX Series
* Wavefront Precision Series
* XE and LE Monitors

The Martin Audio Road Show is a unique opportunity to learn about progressive technologies for the installation and rental markets, hear the latest from the industry leader in professional audio and attend training on deploying the most advanced Wavefront Precision line arrays.
We will be happy to welcome you on November 13 in Kazan and November 27 in Yekaterinburg. The ultimate experience you will never forget.
If you are interested in participating, please register:
REGISTER FOR MARS in Kaza, Nov 13