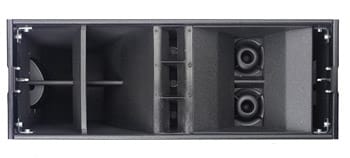 Combining Innovative Horn-Loading Techniques with Line Array Technology to Produce Extremely Powerful Systems with Maximum Dynamic Impact
---
Utilising proven and patentable driver-loading techniques, together with no-compromise vertically-coupled waveguides and true constant directivity horns, Wavefront line arrays achieve levels of efficiency and coverage consistency not usually found in this popular format.
Featuring dedicated, horn-loaded cone-driven mid-range sections for highly intelligible voice projection and toroidal phase plugs to optimise the acoustically correct horn designs to provide the precise pattern control and very low distortion that is simply unobtainable from traditional compression driver designs.
The result of Martin Audio's no compromise design and all horn-loaded line arrays, is that music's subtle nuances are reproduced with exceptional accuracy and unrivalled sonic performance.
More than ever, attention is focussed on how easy a system is to fly. The proprietary rigging systems of the Martin Audio line arrays are safe, quick to assemble and allow for a wide range of venue optimised progressive curvatures to be achieved in conjunction with DISPLAY 1.7™ software, featuring 2D and 3D design.
By hinging at the front rather than the rear, the rigging system minimises gaps between the acoustic elements which would otherwise interfere with the continuous column effect.
Both live sound and install variants are particularly suited to applications that require high output from a small, visually-discreet array and are the ideal sidefill or delay system for larger-scale line array or MLA system.
Martin Audio line arrays - in a class of their own